Crockpot Shredded Beef and Pepperoncini Sandwiches
101 in 1001 #19. Make 10 new recipes, at least one in each of the following categories: dessert, dinner, foreign, salad, healthy, drink, and something with quinoa! :)
Complete January 2018: #4/10, dinner part two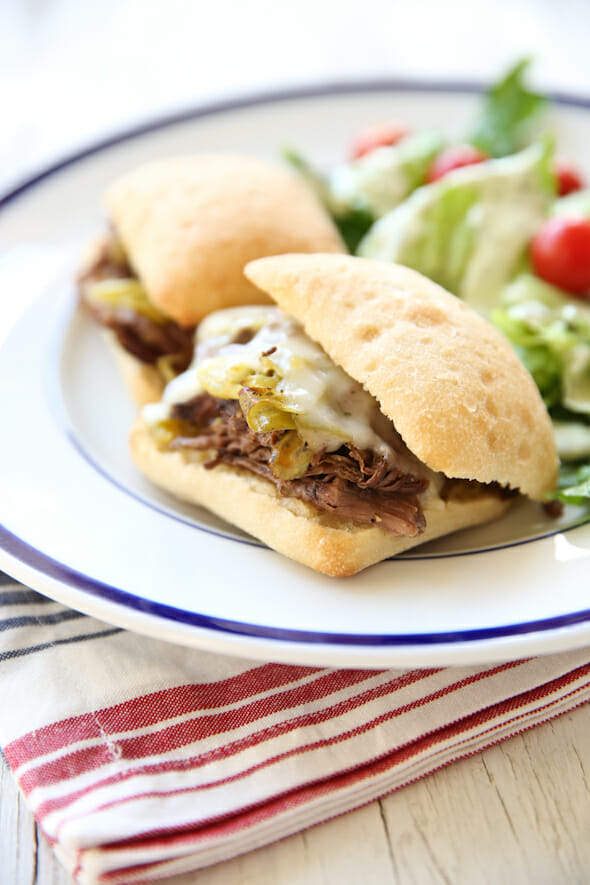 Picture source: Our Best Bites.
I tried to take my own picture, but it was laughably terrible, so in order for this dish to not look disgusting, I've used the professional one from the recipe. :)
I've decided that the way I set up this item on my list was a little confusing. Because I said I wanted to make 10 recipes, but I didn't choose 10 different categories! Which means I'll make more than one dish in a few of the categories.
It's probably not that confusing... but ya know. There's my explanation anyway.
This recipe, ohhhhhhh ma goodness. First of all, it was ridiculously easy to make. One of those "throw everything in the crockpot and don't even think about it until dinnertime" type of things. Secondly, and perhaps more importantly: IT. WAS. DELICIOUS. I'd never even heard of Pepperoncinis before I saw the recipe, and was a little nervous about them, but seriously, yum! They had this sharp flavor that wasn't spicy at all, and I'm really bad at describing new foods, but they were delicious. I couldn't believe the strong, juicy flavor of the meat with just a few spices and the Pepperoncinis!
Serving them on ciabatta rolls with provolone cheese really added to the whole experience, too. Truly a delightful dish that I will be making again for sure!
The best part? Jim liked them. He usually says he likes what I make, but the true test is if he eats the leftovers. And this time, he totally did! So that's a big ol' win in my book.
Happy Thursday!