Girl, Wash Your Face | A Book Review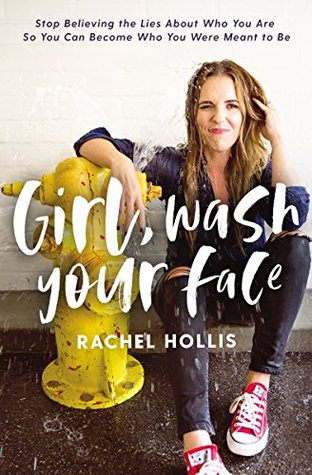 I think I just met my new best friend, and her name is Rachel Hollis.
Okay, so I don't actually know her, but I feel like I do after reading her book! This is one I've seen on shelves and heard people talking about everywhere, so I decided I'd better see what all the hype was about. This book did not disappoint!

Blurb from Goodreads:
Founder of the lifestyle website TheChicSite.com and CEO of her own media company, Chic Media, Rachel Hollis has created an online fan base of hundreds of thousands of fans by sharing tips for living a better life while fearlessly revealing the messiness of her own. Now comes her highly anticipated first book featuring her signature combination of honesty, humor, and direct, no-nonsense advice.
Each chapter of Girl, Wash Your Face begins with a specific lie Hollis once believed that left her feeling overwhelmed, unworthy, or ready to give up. As a working mother, a former foster parent, and a woman who has dealt with insecurities about her body and relationships, she speaks with the insight and kindness of a BFF, helping women unpack the limiting mind-sets that destroy their self-confidence and keep them from moving forward.
From her temporary obsession with marrying Matt Damon to a daydream involving hypnotic iguanas to her son's request that she buy a necklace to "be like the other moms," Hollis holds nothing back. With unflinching faith and tenacity, Hollis spurs other women to live with passion and hustle and to awaken their slumbering goals.
------------
I've been reading a lot of self-help books recently. It's a genre that interests me, and I always like gathering new tips on being better and living a fuller life.
Sometimes, though, I find self-help books to be really clinical. While full of good tips, sometimes they can feel like a textbook, or like a therapist talking at you, or someone who has just done a whole buncha research, if you know what I mean.
There is DEFINITELY a place for these types of books in the world (and in my mind), and I think they can be really fantastic.
This book, though, was not one of those types of books.
Written with wit, heart, and lots of humor, this book feels like you're sitting down with your best girlfriend who really knows you and is just gonna tell it like it is. She gets honest about her struggles, and what she's learned from them. Like the blurb says, she shares the messiness within her own life to reveal that she's just like us, and the things she's learned along the way.
Now, while this isn't one of those "clinical" books, it definitely rings with credibility. As the CEO of a very successful business and the mother of four children, not to mention the author of this book as well as a series of novels, she definitely has seen success in her life and she knows how to get it. But the key thing about this book is that you feel like she's a real person, too.
I especially loved her chapters about motherhood, and about being a successful businesswoman. I don't have aspirations to be the CEO of a large company like she is, but I still found her words and her work ethic and her advice really inspiring. Not only that, but she really shares her heart and that is just something I love in a self help book.
In the introduction to the book, Hollis writes,
"Understanding that you choose your own happiness, that you have control of your own life, is so important. It's one of those things we grasp with both hands and put up on the bulletin board as a reminder... but it's not the only thing you need to understand.

You also need to identify--and systematically destroy--every lie you've told yourself your whole life.

Why?

Because it's impossible to go somewhere new, to become something new, without first acknowledging where you are. The self-awareness that comes from truly digging into what you've come to believe about who you are is invaluable."
Boom. I mean, it's nothing I haven't heard before, but the way she writes it just really hits home to me. She just spoke my language, ya feel?
This book is entertaining, it's enlightening, it's funny, it's emotional, it gets you in all the feels.
It made me want to be better, and I'm sure it will do the same for you.
Happy Monday!